Cold wallets are a very popular wallet for storing crypto assets securely. This type of wallet has the characteristics of being safe and secure so that users can store coins for a long time.
What is cold wallet?
A cold wallet is a type of electronic wallet used to store Bitcoin, Ethereum and altcoins securely thanks to its advanced security capabilities. Since wallets are not often connected to the internet, cyber attacks and phishing are avoided. This is one of the safest wallets available today with many outstanding advantages over wallets on exchanges, Web3 wallets or blockchain wallets.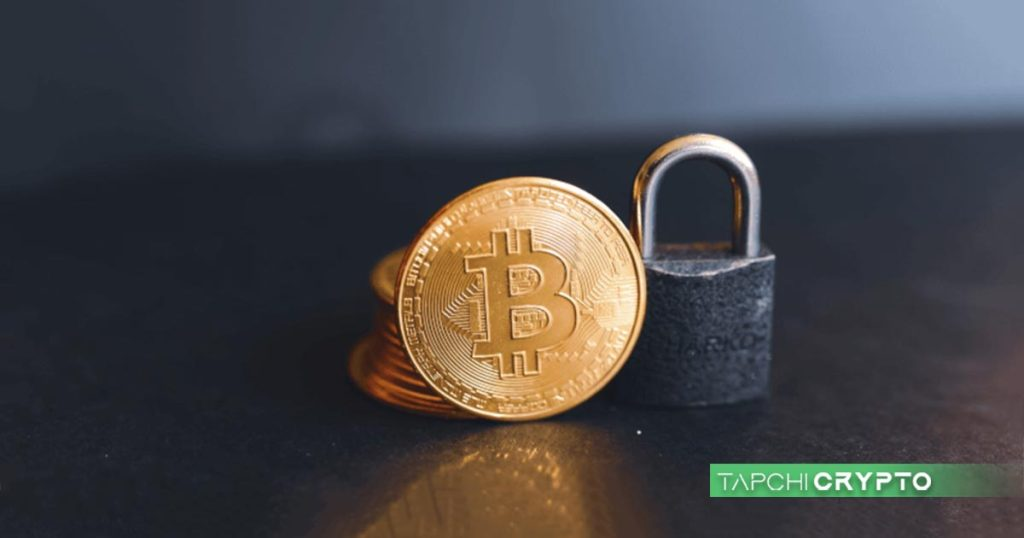 Basically, the structure of the wallet includes data memory chips and security chips. The usual design is like a USB with ports to communicate with the computer. The reason for the name "cold wallet" is because when storing coins, the device will disconnect from the internet environment, so it will be very safe, avoiding hacker attacks.
Currently, cold wallet is the safest device to store Bitcoin, virtual currency and other valuable assets. It is nearly impossible to jailbreak any device up to this point. This is a safe storage method for long-term coin investors.
Working principle of cold wallet
Previously, if you wanted to connect to the blockchain network, you would have to have a computer and data containing transactions (ledger) to be able to use it. However, this way is quite dangerous when the computer is hacked or data is exposed.
The way cold wallets work is quite simple. The device will generate a private private key for each device and unlike anyone else, the user will have to store them. The wallet will connect to the specified blockchain network and communicate in a completely secure manner. The whole process will be manipulated on the hardware device, the control interface will have its own software, the confirmation operations will also have to be done manually to increase security.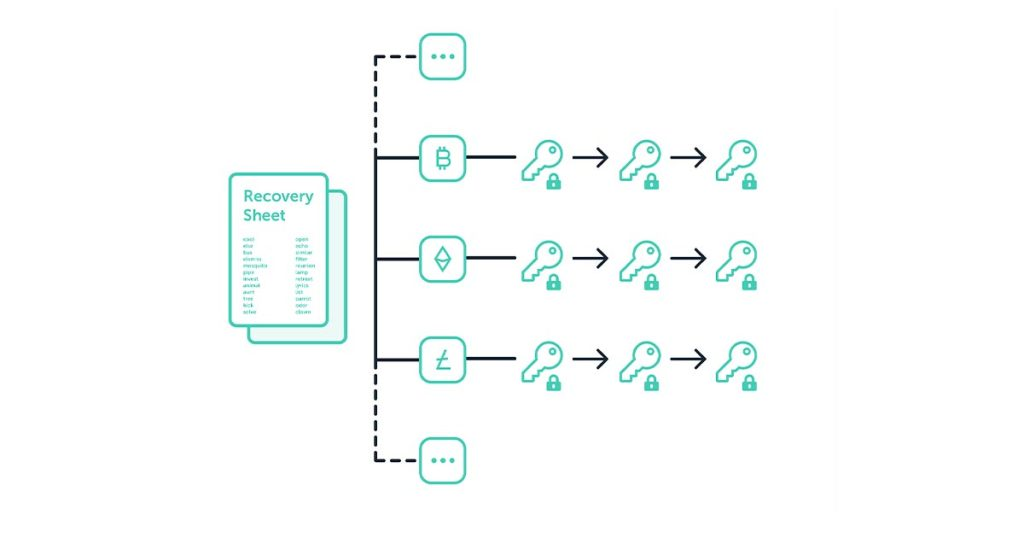 Most cold wallets on the market today generate a private key of 24 characters, most major blockchain networks like Bitcoin, Ethereum, etc. have the same design. With such a secure token to communicate with a hardware wallet will ensure that the stored assets become more secure.
Inside the wallet actually only includes a very low memory capacity from 120KB to 1 or 2MB, low capacity to avoid installing external software to attack the device. In addition, Secure Element security chips are also integrated with the highest level security standards to increase device security.
Many people think that cold wallets store coins directly, but that is not the case. These wallets are basically an intermediary device that helps you communicate with any blockchain network in a more secure manner. The assets inside a wallet are only the user with full control, so when you lose your wallet, or your device explodes, you won't lose your coins.
Cold wallet classification
Cold wallets are more than just a hardware device, they are a combination of both software and security methods and manual operation. Hardware wallets will be responsible for security, storage and communication, software wallets will support control and manipulation, paper wallets are a rather personal method of security.
Hardware wallet
Ví phần cứng là thiết bị chính giúp kết nối và giao tiếp với một mạng blockchain. Thành phần chính gồm chip xử lý trung tâm, chip nhớ để cài chỉ dẫn và phần mềm cùng một con chip bảo mật cao cấp nhất. Thông thường những chiếc ví phần cứng này sẽ sử dụng các cổng kết nối như MicroUSB, USB Type-C hoặc Bluetooth… Một số dòng cao cấp có trang bị thêm cả pin đi kèm và một màn hình LCD hiển thị thông tin.
All safety is in this small device with the tip of a finger, which is also what helps to store Bitcoin, the best virtual currency today.
Paper wallet
The paper wallet section will help you store the security key to avoid risks such as being forgotten or stored on a vulnerable computer. Usually people will save 24 keywords to open the wallet, wallet address or QR-code to make transactions faster.
However, paper wallets also have the disadvantage of being easily lost, exposed data, lost when discharging natural disasters, fires …
Software Wallet
Ngoài ví cứng và ví giấy thì ví phần mềm giúp người dùng dễ dàng thao tác và điều hướng trên mạng blockchain linh hoạt và dễ dàng hơn. Ngoài các thao tác như chuyển coin, nhận coin thì phần mềm giúp kết nối ví lạnh với máy tính, cập nhật phần mềm, xác nhận thiết bị.
Some software wallets like Ledger Live have many features such as installing different blockchain apps, swapping tokens, buying coins with credit cards, asset statistics, etc., which are very convenient.
Pros and cons of cold wallets
Although cold wallets were created to solve many security problems in the crypto space, weaknesses will always exist no matter how good the solution.
Advantage:
Extremely high security, absolute safety even if it is stolen or damaged
Long-term safe coin storage
Flexibility and convenience in sending and receiving coins
High stability, no lag or freeze like a hot wallet
Defect:
The selling price is high and quite expensive, not for the masses
Store coins with blockchain network limit
Mobility and fast when transactions are not really convenient like hot wallets
The verification processes to send transactions to the blockchain network are cumbersome and take a long time
What is the difference between hot wallet and cold wallet?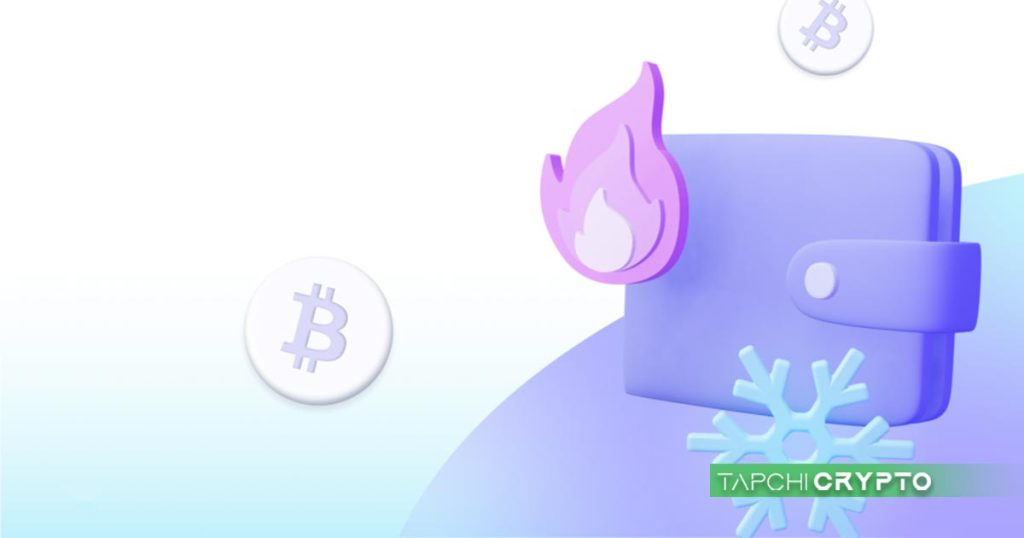 Both of these wallets have completely opposite characteristics so the advantages and disadvantages are also different.
Hot wallets will aim for mobility and flexibility in an environment that requires frequent connections, fast and simple transaction speeds, and supports many coins. Cold wallets operate less often, the transaction process is slow, cumbersome, and does not support too many blockchain networks due to capacity limitations.
Both of these wallets will be suitable for many conditions and needs of each person. For long-term coin investors, a cold wallet is indispensable, in contrast to those who surf or do airdrops, hot wallets are indispensable.
| | | |
| --- | --- | --- |
| Difference | Hot Wallet | Cold Wallet |
| Operating Model | Regularly active, requiring continuous internet connection, operated through a browser or application. | Less active, mainly offline to avoid being hacked. |
| Security | Vulnerable to hacking and intrusion if the computer or phone is monitored. High risk of potential asset loss. | High level of security with multiple layers and hardware equipped with the world's most advanced security chips. |
| Transaction Speed | Ability to process transactions quickly through a few simple steps. | Slow transactions, too many cumbersome steps and data verification. |
| Supported Coins | Supports almost every type of coin. | Only coins supported by the wallet developer can be used. |
| Supported Blockchain Network | Unlimited | Limited |
| Price | Free | Price ranges from $119 – $149 (depending on the type). |
Popular cold wallets
Ledger cold wallet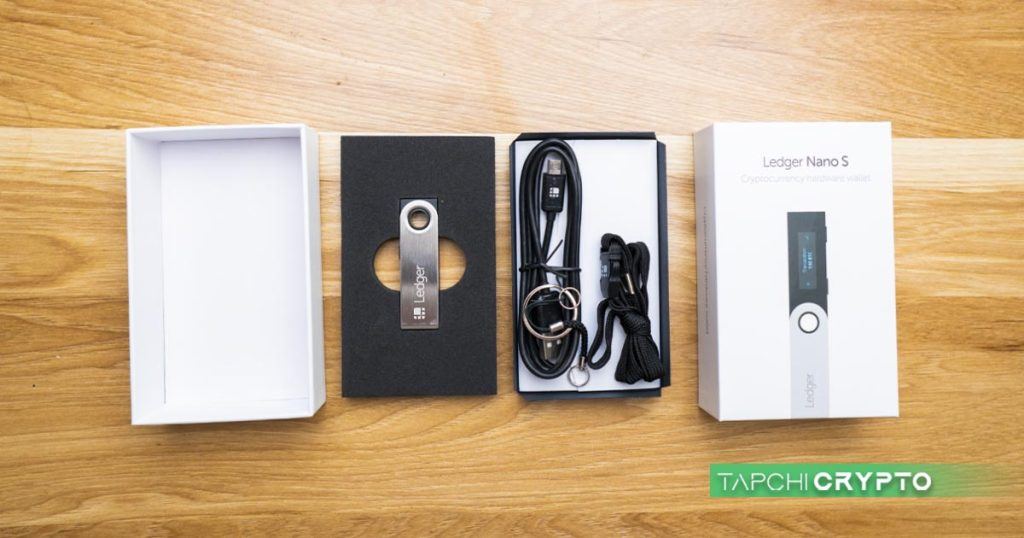 Ledger SAS is a technology company founded in France in 2014 by founders Eric Larchevêque, Joel Pobeda and Nicolas Bacca. The company specializes in the production of cryptocurrency storage and blockchain security products. The company's products include Ledger Nano S and Ledger Nano X cold wallets and Ledger Stax.
This is a large company that has a strong reputation and leads the crypto industry in the area of storage and security. At the beginning, Ledger raised a huge amount of capital up to $380 million from Samsung and Google Ventures.
Currently, Ledger has three popular wallets that are currently of interest to many customers, including:
Ledger Nano S: This is a Hardware Wallet with functions to store Bitcoin and many other cryptocurrencies. The exterior design is a solid metal layer with a compact body. The product has a full range of hardware encryption technologies, two-factor authentication, software support on computers and phones. Currently, the Nano S Plus series has been born and replaces the previous generation, the number of applications supports up to more than 100 apps.
Ledger Nano X: This Ledger wallet line is much improved from the senior generation with a larger storage space that can install many applications inside. Other features include advanced security, hardware encryption, two-factor authentication, enhanced PIN. In particular, Ledger Nano X has Bluetooth connectivity for easy pairing with phones and laptops.
Ledger Stax: This is a newly developed hardware wallet and inherits the quintessence of Ledger Nano X. The product is designed like an ATM card with dimensions of 85mm x 54mm x 6mm, weight 45 grams. The device is equipped with a 400×672 pixel touch screen, ST33K1M5 security standard with CC EAL 5+ security certificate.
| | | | |
| --- | --- | --- | --- |
| Specification | Ledger Nano S | Ledger Nano S Plus | Ledger Nano X |
| Wallet Type | Hardware wallet | Hardware wallet | Hardware wallet |
| Supported Coins | About 3 apps on Ledger Live, supports 1,100 third-party wallet apps | About 100 apps on Ledger Live, supports 5,000 third-party wallet apps | About 100 apps on Ledger Live, supports 5,000 third-party wallet apps |
| Security Certification | EAL5+ | EAL5+ | EAL5+ |
| Screen | 128 x 32 pixels | 128 x 64 pixels | 128 x 64 pixels |
| PIN Duration | None | None | 8 hours standby |
| Connection Port | Micro USB | USB-C | USB-C |
| Wireless Connectivity | None | None | Bluetooth |
| Dimensions | 56.95mm x 17.4mm x 9.1mm | 62.39 x 17.40 x 8.24mm | 72mm x 18.6mm x 11.75mm |
| Weight | 16.2 grams | 16.2 grams | 34 grams |
| Supported Operating Systems | Android, Windows | Android, Windows | Multi-platform |
| Year Released | 2016 | 04/2022 | 05/2019 |
| Price | $79 | $74 | $149 |
Ledger wallet is considered the easiest wallet to use and is popular with the vast majority of users with long-term storage needs. You can store almost any coin on various Blockchain platforms without any barriers. However, wallet capacity will be a factor to consider if your usage needs are large enough
The way to transfer coins to Ledger cold wallet is as simple as normal transfer operations. In addition to transferring between wallets, you can completely transfer wallets to the exchange, apps and vice versa.
See also: What is Ledger cold wallet – Pros and cons
Trezor cold wallet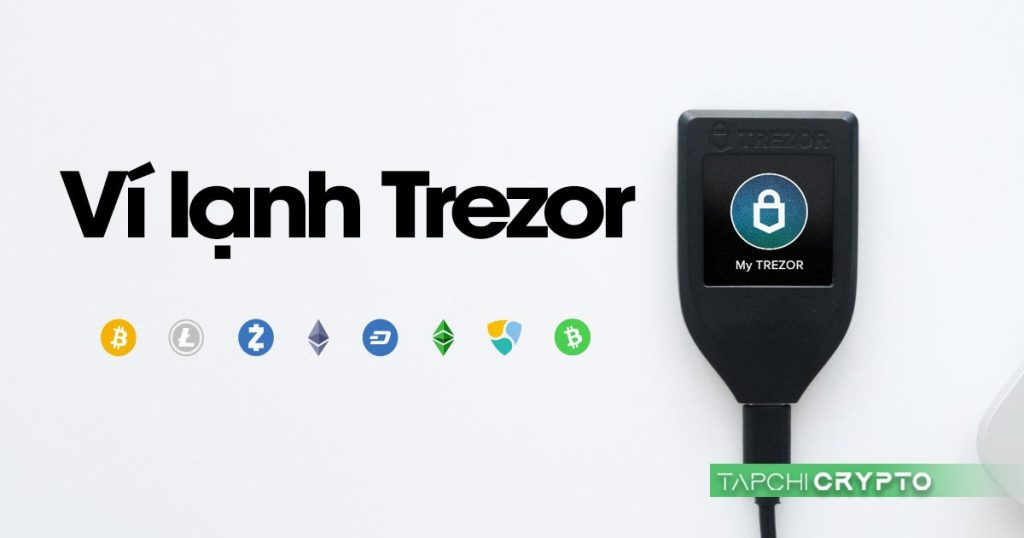 Trezor is a brand specializing in the production of cold wallets that store coins under the company SatoshiLabs. Trezor wallet supports many different blockchain arrays such as: Bitcoin, Ethereum, Ripple, Litecoin…
The most outstanding feature of Trezor is the design when it has a better OLED display screen to help users manipulate transactions easily. Other connections include USB to computer and Bluetooth to smartphone.
Advanced security technology with the new generation ARM Cortex chip keeps your assets absolutely safe. Other security features include hardware encryption, two-factor authentication, and PIN at sign-in.
Currently, Trezor wallet has two product lines, Model One and Model T, which both support more than 1000+ different coins. This is the second most popular cryptocurrency wallet today due to its good price and user-friendly design.
| | | |
| --- | --- | --- |
| Comparison | Trezor Model One | Trezor Model T |
| CPU | Cortex M3 | Cortex M4 |
| Connection | Micro USB | USB-A, USB-C |
| Display | OLED 128×64 pixel | LCD 1.54″ 240×240 pixel |
| Dimensions | 60x30x6 mm | 64x39x10 mm |
| Weight | 12 grams | 22 grams |
| Operating Temperature | -20°C to 60°C | -20°C to 60°C |
| Price | $69 | $215 |
See also: What is Trezor cold wallet – Pros and cons
SafePal cold wallet
SafePal is a relatively new cold wallet manufacturing company founded in 2018 by Veronica Wong, a fairly well-known person in the technology field. The company is headquartered in California, USA with the main field of security products such as cold wallets and other crypto wallets.
Products of the SafePal brand are cheap and integrate many breakthrough technologies and designs. The company almost took advantage of the weaknesses of major competitors to create a market for itself.
SafePal cold wallet currently has a single product line, SafePal S1 with compact design and LCD screen. Two-layer security technologies and EAL 5+ certification have helped the product gradually gain popularity.
The product's connections only include Bluetooth, but it also makes all operations to transfer coins to cold wallets and transfer to exchanges extremely simple. Currently, SafePal S1 supports up to 54 blockchain networks such as Bitcoin, Ethereum, BNB Chain … with thousands of different coins. You can see more here.
| | |
| --- | --- |
| Specifications | SafePal S1 |
| Size | 113mm x 96mm x 30mm |
| Weight | 126g |
| Touchscreen | No |
| Connection | micro-USB to USB-A |
| PIN duration | 3.5 hours |
| Functions | Coin storage, sending, receiving, and trading |
| Supported operating systems | Android and iOS |
| Number of supported coins | 15,000+ |
| Security certification | EAL 5+ |
| Two-factor authentication | Yes |
| Price | $50 |
See also: What is Safepal cold wallet – Pros and cons
Keepkey cold wallet
KeepKey was founded in 2014 and acquired by the company ShapeShift in 2017. It is a hardware crypto wallet that supports storing and managing assets with high security. Compared to the major brands in the industry, KeepKey is relatively unknown even though it is a wallet with many advantages.
The brand's products are capable of two-layer security, hardware encryption, and support for control software on multiple platforms. In addition, its products are also equipped with a large display screen for easier coin transfer operations.
Currently, the company only has a single product called KeepKey Hardware Wallet that is capable of supporting 46 coins. This is considered a good Bitcoin cold wallet when it has the ability to generate random numbers on hardware when connected to a computer to increase security.
| | |
| --- | --- |
| Specification | KeepKey Hardware Wallet |
| Size | 3.8 x 9.3 x 1.2 cm |
| Weight | 54 grams |
| Screen | OLED |
| Connection | Micro USB |
| Included PIN | No |
| Operating system | Windows, Android |
| Supported coins | 40+ |
| Price | $50 |
See also: What is KeepKey cold wallet? Reviews, pros and cons
Cool Wallet cold wallet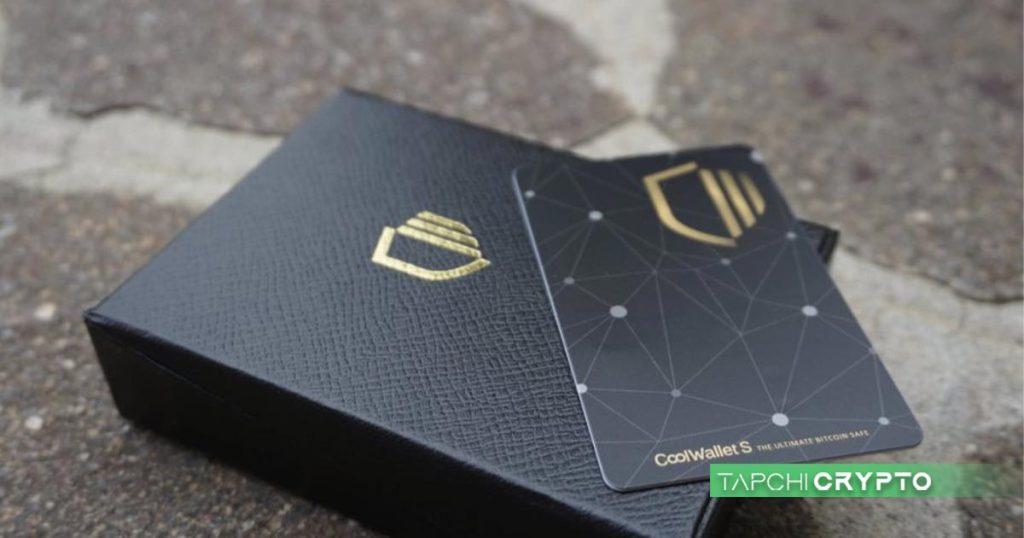 CoolWallet was established in 2014 and is a product of CoolBitX, a company based in Taiwan specializing in providing crypto-related security solutions. CoolBitX has two product lines, including digital wallets and hardware wallets.
CoolWallet's hardware wallets have a sleek design, compact size, and are equipped with an OLED screen and smart button. Security features include two-step transaction verification, hardware encryption, and private security keys.
With a design similar to an ATM card, the wallet is ultra-thin but still has all the physical buttons, display screen, and security chip. Users can pair it with their mobile phone and it has a battery life of up to three months. This is a highly innovative design from the CoolWallet brand.
The products that CoolWallet launches on the market all have Bluetooth connectivity to manage assets directly and quickly on the phone. Currently, CoolWallet supports many blockchain networks with over 10,000 different coins. The main products of this brand include CoolWallet S, CoolWallet Duo, CoolWallet Duo Plus, and CoolWallet Pro.
| | | | | |
| --- | --- | --- | --- | --- |
| Specifications | CoolWallet S | CoolWallet Duo | CoolWallet Duo Plus | CoolWallet Pro |
| Size | 85.6(L) x 53.98(H) x 0.8(T)mm | 85.6(L) x 53.98(H) x 0.8(T)mm | 85.6(L) x 53.98(H) x 0.8(T)mm | 85.6(L) x 53.98(H) x 0.8(T)mm |
| Connection | Bluetooth | MicroUSB | Micro USB | Bluetooth |
| Security certification | EAL 5+ | EAL 5+ | CC EAL 6+ / CC EAL 5+ | EAL 6+ |
| Battery life | 3 months | 3 months | 3 months | 3 months |
| Supported app | Wallet Connect | Wallet Connect | Wallet Connect | Wallet Connect |
| Supported blockchain networks | 12 | 12 | 12 | 27 |
| Supported coins | 10,000+ | 10,000+ | 10,000+ | 12,000+ |
| Staking | No | No | No | Yes |
| NFT | No | No | No | Support OpenSea via Rarible |
| Metamask support | No | No | No | Yes |
| Price | $100 | $185 | $253 | $154 |
See also: What is CoolWallet cold wallet? Reviews and technical information
How to use a cold wallet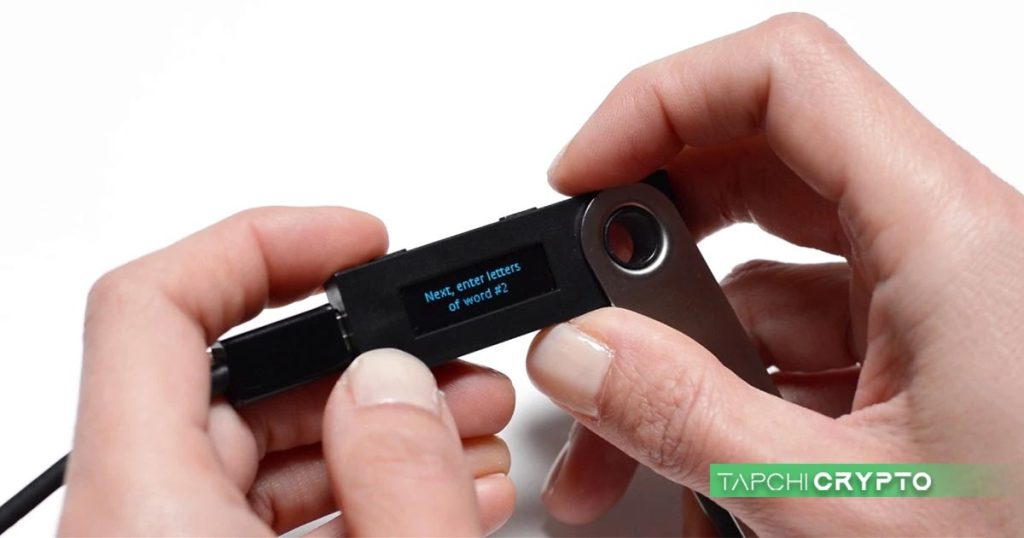 Step 1: First, you need to install a cold wallet management app on your computer or phone. These apps can be easily downloaded from the manufacturer's website and then connected via Bluetooth or data cable.
Step 2: Create your first wallet by memorizing the 24 keywords, which are extremely important. There are ways to write them on paper, write them on a plastic card, and keep them in a safe place, but taking a picture and saving it on your phone is not recommended. These characters are used to restore your wallet in case of hardware failure or issues. Cold wallet manufacturers do not store recovery spheres on servers or anywhere else. You should be aware that if you do not remember the 24 keywords, you will not have access to any assets inside.
Step 3: After you have obtained your wallet and completed all security measures, proceed to install the apps needed for use. The apps on most wallets today are lightweight, so you don't have to download the entire blockchain ledger.
However, cheaper wallets may only have a certain number of apps installed. You should install the apps according to your usage needs or consider upgrading to a higher-end wallet.
Step 4: Transfer and receive coins using your wallet address and the interface on the app. Each brand is different, but they are essentially just different in terms of user interface. When sending or receiving, make sure to accurately note the wallet address to avoid confusion, as once the transaction is pushed to the blockchain, it cannot be canceled.
You will have to verify the transaction accuracy in two steps, confirming the transaction on the device. Note: Transfer to the correct address and network blockchain to avoid losing assets.
Step 5: Regularly update the software on both the cold wallet and the management app. This is an easy way to enhance security and compatibility with the blockchain network.
How to transfer coins to cold wallet
Moving coins to a cold wallet is really like moving to a wallet on the blockchain network itself. The operation is extremely easy once you know how to use the wallet in the step above. To transfer coins to a cold wallet, you proceed to get the wallet address of the coin to be transferred.
At the place to send the coin, find the address and paste the wallet created in the cold wallet to proceed. In applications or exchanges it is often called "Recipient Address".
Next, enter the number of coins you want to send. Finally you confirm the transaction by entering the PIN or 2FA to confirm the transaction.
Which Bitcoin cold wallet is the safest today?
Bitcoin is a very valuable asset today, so many storage and custody services have been born to provide services to amateur users. For the slightly savvy user, you can completely store and secure Bitcoin at no cost.
Most cold wallets today support Bitcoin because it is a popular, highly liquid, low-volatility asset. Recommended Bitcoin cold wallets are Ledger Nano X, Trezor Model T, KeepKey Hardware Wallet, and SafePal S1.
Note when using cold wallet
Store the seed phrase safely
The seed phrase (or recovery phrase) is a string of 12, 18, or 24 words used to restore your wallet in case of loss or damage. These seed words are often simple English words that are easy to remember for most people. You should write them down on paper with a pen or on hard cards to avoid damage. Absolutely do not store them by taking photos and saving them on a phone or computer as they may be hacked or leaked.
Double-check the address before sending
Before sending, you should double-check that the recipient's address is accurate and correct. Nowadays, a coin can run on many different blockchain networks, and selecting the wrong one can result in a big loss.
Always update the latest firmware
Cold wallets often have a mechanism to upgrade firmware regularly to enhance security features. You should regularly check for updates to ensure that the device always runs the latest version to protect yourself from security vulnerabilities.
Do not lend the cold wallet
You should never lend a cold wallet to friends or relatives for use. Although the mechanism is to send and receive coins, there are many security issues behind it. When lending, the 24 security characters will be exposed, and the other party can easily recover them on a new wallet.
Limit buying and selling cold wallets
If your device is too old or your usage needs are too high, exceeding what the current device supports, you should upgrade or buy a new one to ensure the security of your assets.
Where to buy genuine cold wallet?
Currently, cold wallets are distributed in many countries by manufacturing companies. You can easily order it yourself and have it delivered to your home for free. In Vietnam, the delivery process of wallets with a value of over three million will be charged an additional import tax. In addition, because it is a high-tech asset, you need to sign a certificate to be able to import it.
Currently in the country there are many reputable units that provide wallets or on e-commerce platforms such as Amazon… However, it is safer to order and ship without intermediaries, this is how ensure that the device is "zin" from the manufacturer to the user.
FAQ about cold wallets
How to create a cold wallet?
A cold wallet cannot be created. You can only buy and create a wallet address for each corresponding blockchain network.
Where to buy Trezor cold wallet?
You can buy a Trezor cold wallet directly from the manufacturer's website at trezor.io. There are many payment gateways supported such as Google Pay, Apple Pay, VISA, or Master Card. The ordering process and delivery to your country are usually free and take around 40-50 days.
If a cold wallet is damaged, will the coins be lost?
The wallet does not directly hold the coins of the user in the wallet. These wallets act as a bridge between the user and the blockchain network through a private protocol to maximize security. When your cold wallet is damaged, the coins are safe and not lost.
Should you sell a cold wallet when not in use?
After a period of use, if your wallet is full and no longer meets your usage needs, you should sell it and upgrade to a new device. Selling a used wallet is not too risky; you only need to delete all data to complete the process.
Where to buy reliable Ledger cold wallets?
To buy an authentic Ledger cold wallet, you can order directly from the manufacturer's website at ledger.com. The ordering process takes about 45 days to arrive in Vietnam, and when it arrives at customs, you will need to pay additional taxes and declare the goods to have the genuine cold wallet. There are many domestic companies that offer lower prices, so you should research some of them.
Is storing coins in a cold wallet safe?
Currently, using a cold wallet to store digital assets such as coins and NFTs is the safest and most secure method.
Is it advisable to buy a used cold wallet?
Buying a used cold wallet may help you save costs, but the advice is not to use it to avoid risks if the device has been tampered with.
Which country produces the Ledger cold wallet?
Ledger is a French cold wallet manufacturer established in 2014. Its headquarters is located at 1 rue du Mail, Paris, France.
Can a cold wallet be hacked?
Currently, a cold wallet is the safest way to store crypto. There have been no hack incidents that have caused significant losses or impacted a large number of devices.
Which cold wallet is the best for storing Bitcoin?
There are many types of cold wallets that support Bitcoin management, but the most popular are: Ledger Nano X, Trezor Model T, SafePal S1, and Cool Wallet Wallet.
How are cold and hot wallets different?
Basically, cold and hot wallets are two names describing two types of hardware wallets and blockchain wallets. A wallet that is rarely used and isolated from the Internet environment is called a cold wallet or hardware wallet. A wallet that is frequently online and ready to use 24/7 is called a hot wallet. The difference between these two types of wallets is their security and flexibility.
Hai Nguyen